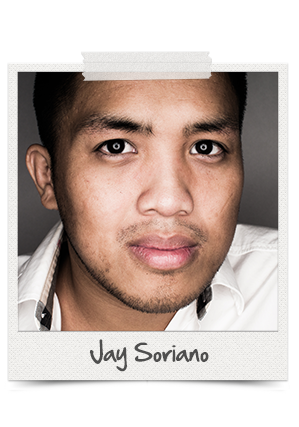 About Jay Soriano :
Las Vegas Portrait and Headshot Photographer
A famous photographer once said, "Your first 10,000 photos are your worst." I'd even go on to say that your last 10,000 photos are your worst. I'll never tell you I'm the best. Photography is an art where it takes a day to learn and a lifetime to master. Through my entrepreneurial work I've been lucky enough to be featured by ABC, Under30CEO, Las Vegas Review Journal and various other publications. And now, I hope to make the same waves in photography.
A picture says a thousand words, so checkout my portfolio and if you like what you see send me an email and let's talk about what you have in mind. I want to make sure we're a good fit, if I'm not the photographer for you I'd be happy to refer you to someone else.
My Approach to Portraits and Headshots
I've always liked the phrase "Don't be better, be different." There's a thousand photographers in Las Vegas, if you look through my photos what I think differentiates myself is my unique ability to use off-camera lighting and post processing to give you a photo that's unique. I'm not a factory, I take my time with each client and I'll work with you to get a portrait that you love.
Pricing  
On-location photographer with portable background and lighting, I can shoot from the comfort of your home or office, or you can come to my home studio located in Mountain's Edge (off of Buffalo and Mountain's Edge Parkway). If you have any questions feel free to contact me at jonathanjsoriano@gmail.com
I offer honest, affordable and transparent pricing. Many other photographers typically charge a "session fee," than separately for the actual images you want to purchase. I include un-watermarked, full resolution photos with a release for web and prints. I simply reserve the right to use the photos for marketing purposes (portfolio, social media, blogging, etc.).
Payment
Payment is due at the time of the shoot and via cash or card.
Turnaround Time
Photos will be ready for your review within 7 days.
Satisfaction Guarantee 
I stand by my work. Throughout our session, I'll occasionally show you photos and if you don't like them, or if you're unhappy with the experience, you won't have to pay me. No questions asked.
*Due to the nature of digital files, there are no refunds after the photos have been electronically delivered. The satisfaction guarantee only applies at the time of the session.
**Does not apply to group headshots.
Discounts
$50 off any package for College Students (with valid ID).
You and a friend can save $50 each when you book together.
*Cannot combine discounts.
$200 – Headshots Package
See Group Headshots Pricing (Minimum 5+ People)
Generally a session lasts for about 60+ minutes and I'll work with you to get a shot you love. Backed with a satisfaction guarantee, if you don't like the photos, you won't have to pay a dime.
Unlimited Outfit Changes
White, Black or Gray Background (Additional colors available upon request), Outdoors and Environmental are an option as well.
Minimum 30+ Full Resolution Images
Light Edits on All Photos (15-30 minutes: correcting for exposure, color, contrast, white balance)
High-End Retouch on 2 Photos (1-2 hours: make you thinner, whiten teeth, stray hairs, high-end skin retouching, etc.)
$300 – Lifestyle, Commercial or Editorial Portrait Shoots
90 Minute Session
Unlimited Outfit Changes
Generally shot on-location, a portable background is available as well (white, black and gray)
Minimum 30+ Full Resolution Images
Light Edits on All Photos (15-30 minutes: correcting for exposure, color, contrast, white balance)
High-End Retouch on 2 Photos (1-2 hours: make you thinner, whiten teeth, stray hairs, high-end skin retouching, etc.)